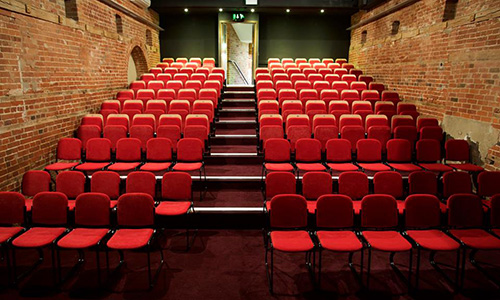 The Dead And SudBuried Horrorthon began life way back in 2016 in darkest Suffolk in the small market town of Sudbury as a celebration of classic horror movies. Over just one day, seven such classics were thrown back on the big screen in the intimate venue of The Quay Theatre. Taking place in a town without an actual cinema to fulfil our dream to see these movies on a big screen, the first Horrorthon was planned around a birthday so just in case it failed to bring enough horror fans obsessed enough to sit and watch non-stop horror all day long, the event could be written off as a present to ourselves!

Fortunately, a small but perfectly formed crowd came, enjoyed and endured over 13 hours of wonderful motion pictures giving birth to our very own franchise! We believe that movies should be seen on a big screen with big sound and with a crowd to be truly enjoyed which is the real reason the Horrorthon keeps coming back every year!

We returned in 2017, 2018 and 2019 bombarding a growing crowd with more classic horror movies and adding giveaways, discounts from local businesses and more! Sadly in due to Covid, our 2020 was postponed but we created a virtual event to bridge the gap to 2021 using the Eventive platform and a host of brand new movies and shorts over an entire weekend!

Our fifth year was a breakthrough year when it became clear that our horror fanatic crowd was hungry for not just more classic horror but they wanted new horror too. We expanded to 2 days and with brand new features and shorts added to our regular bill of rarely seen, classic horror movies, we became a fully-fledged two day horror film festival. The fifth event was a huge success leading to an even bigger 3 day event in 2022 featuring 8 classics, 8 festival circuit movies and 19 brand new shorts plus the addition of food trucks and merchandise!

The seventh Horrorthon, Taste The Blood Of Dead And SudBuried takes place at The Quay Theatre in the picturesque town of Sudbury, Suffolk from Friday 20th to Sunday 22nd October featuring 3 days, jam packed with delicious horror! Please come and join us!